Linen texture is the physical application of horizontal and vertical impressions on your fabric which you can feel in hand. The linen texture adds a unique appearance to your window. Our fabrics come with 2 types of range, which is blackout & dimout series to fit your need.
Fabric    
G2823
G2828
Width   
   280cm (110")
   280cm (110")
Composition   
   100% Polyester
   100% Polyester
Recommended Use   
   Soft Furniture
   Soft Furniture
  Washing Instructions   
Category   
   Sunblock ±100%
   (Blackout)
   Sunblock ±80% 
   (Dim-out)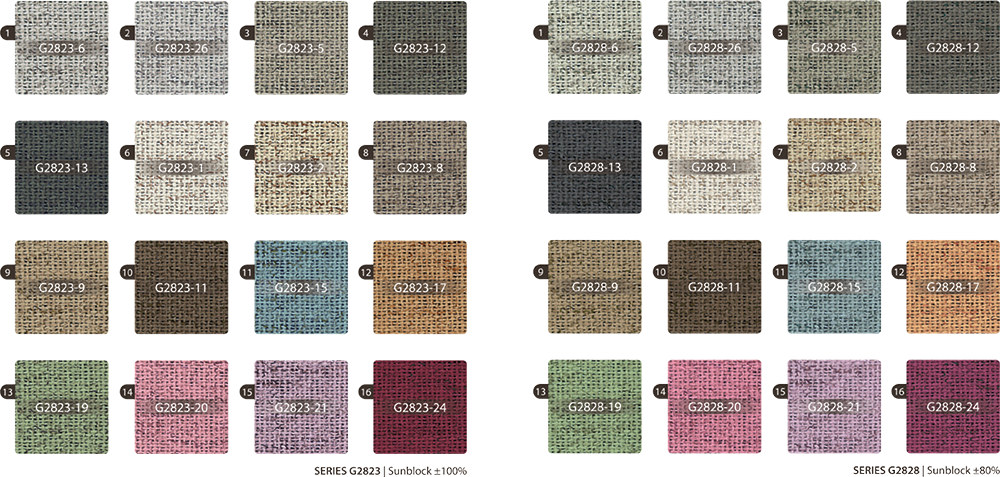 We have to think about the functionality of the blind and what the patron is eventually attempting to gain with the blind, out with the fabric design. This can differ depending upon which room the curtain is going to be fitted in but may also differ due to the customer's specification. Even though G2823 & G2828 come with the same surface material, but their finishing is different.
G2823

This material which is the ending comes with silicon coating to cover the hole of fabric. Therefore, the light will now not be able to pass through the material to perform the 100% sunblock effect.

G2828

A curtain fabric material with the dim-out category which is the ending comes with 2 layers of fabric (sum up 3 layers) to increase the density of the fabric. Significantly reduce the degree of light transmission from one side to the other. Generally, they should not be considered to offer full blackout characteristics.