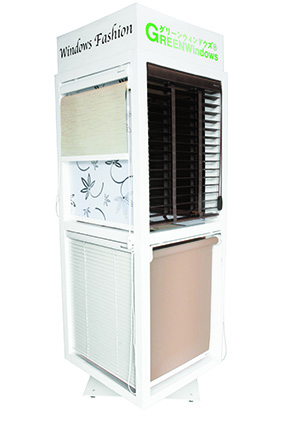 This is the Display Showcase Set
It could display total 8 sets of Window Blinds with in size 22" x 30". Therefore, you can get all 8 sets of blinds in one showcase. Beside that, inside this showcase come with 2 built-in spotlight to simulate the sunlight in effect for these blinds to show their function.
Lazy to walk, no problem. It is slidable could rotate 360° to show every edge.
It also perfect fit for dealer's showroom / gallery. It's roller allow this huge showroom case move in/out easily and also can bring to exhibition event.
Basis Roller Blinds, run smoothly
Day & Night Double Layer Roller Blinds
35/50MM Wooden Venetian Blinds
25MM Aluminium Venetian Blinds
Triple Shape Roller Blinds
Heavy Duty Wooden Venetian Blinds
Light Duty Wooden Venetian Blinds